A free outdoor exhibition walking of Japanese flower arrangement to support Lakeview & Roscoe Village's local restaurants and businesses!
About this event:
The Japanese Culture Center (JCC), in partnership with the Lakeview Roscoe Village Chamber of Commerce and Japanese Arts Foundation, is hosting an Ikebana Walking Exhibition June 12th and 13th. This event is generously sponsored by SSA 27.
The exhibition features the Japanese art of flower arrangement, or Ikebana (ee-keh-bah-nah) in local restaurants and business storefront windows throughout the Southport Corridor allowing safe public access to this beautiful and unique art. Ikebana flower arrangements are meant to be viewed from a single perspective, rather than in the round as often seen in western arrangements. This allows for a perfect experience viewing this art through the window fronts of your favorite local business! The Lakeview neighborhood was historically considered the unofficial Japantown of Chicago. This collaboration seeks to connect our neighborhood's past with the present, while supporting local restaurants and businesses affected by the COVID 19 pandemic.
The Ikebana Walk takes place from June 12 – 13, in the Southport Corridor with Japanese Culture Center Ikebana instructors, artists, and students will install flower arrangements from two different schools of Ikebana; Ikenobo and Ohara Ryu.
This event is free of charge, and there will be a ribbon cutting at an opening ceremony on June 12 at 12 PM CDT with local community leaders and special guests!
Various restaurants and participants will be featuring promotions during the event, so please stay tuned!
Chicago Chapter of the Ikenobo Ikebana Society
Ikebana originated with Ikenobo, beginning in Kyoto, Japan. Passed down through generations of the Ikenobo family and from teacher to student, Ikenobo has spread throughout Japan and around the world for over 1,000 years.
The Chicago Chapter was founded over 50 years ago by Senior Professor Ikka Nakashima. She is the second woman ever to receive the highest honor given outside the Imperial family, The Order of the Rising Sun, Gold and Silver Rays. The Emperor of Japan personally presented her with this award in Tokyo for her tireless service in promoting Japanese arts and culture.
The Chicago Chapter normally hosts an annual public exhibition at Garfield Park Conservatory in the spring and the Chicago Botanic Garden in the fall. Current Chapter Leader, Professor Charles Harris is the instructor at the JCC and is a recipient of the Japan America Society of Chicago's Cultural Achievement Award.
Ohara Ryu
The Ohara School of Ikebana was founded by Unshin Ohara (1861-1916). Unshin explored the fields and mountains and tried to develop a style of ikebana to express the beauty of natural scenery. He also searched for ways to arrange Western flowers that had just begun to be imported into Japan and created a new style called Moribana. It is considered to be the first brilliant step in modern ikebana.
Since 2005, Inoue Sensei has been teaching Ohara Ryu in Chicagoland. She is a member of and an instructor in the Ohara School of Ikebana, both in Japan and in the U.S. Originally from Japan. Currently, Ms. Inoue is an active Ikebana lecturer, exhibitor and demonstrator who travels nationally and internationally. She has an active study group in Sofia, Bulgaria. Her principal teachers are the late Hougyoku Hirai, the late Kazuko Ernst, and Houhatsu Takeuchi. Ms. Inoue was also an Aikido student under late JCC founder, Aikido and Zen Master, Fumio Toyoda.
*photo of the arrangement above is copyrighted by Ohara Ryu*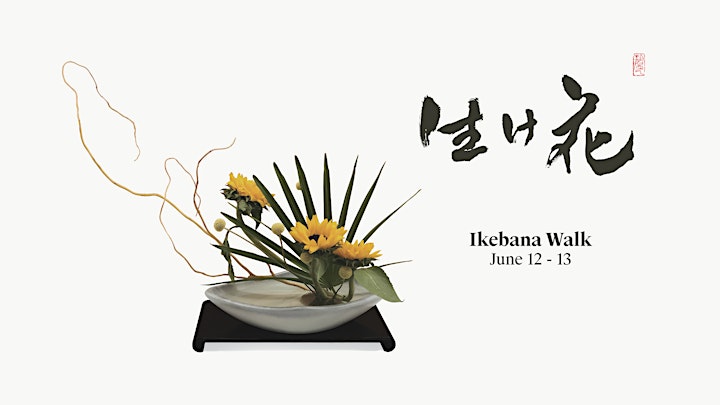 *photo of the arrangement directly above is copyrighted by the Chicago Chapter of the Ikenobo Ikebana Society*